Triathlon has been steadily gaining popularity since 2004 with children as young as 3 years of age participating. I wouldn't suggest that to parents out there but how many of us have taken the plunge into the sport? Triathlons nationwide are reporting registration numbers that have tripled in attendance in just one year. Last year Race El Paso sponsored its first local triathlon, Eagle in the Sun, which saw many local residents purchasing their first road bike, and diving in the pool to train. Have you thought about it? Perhaps you're a runner so you think, how hard can riding a bike for 12 miles be? You swam competitively as a child so 400m is nothing, right? Not always, you're older now, have a full time job or a family or in many cases, both. It takes many days of dedicated training in order to have a successful race. Still I highly recommend it to everyone out there who has ever had a fleeting thought about doing one.
I dabbled into the sport in 2008 at the Danskin Sprint Womens Triathlon in Austin. In the summer of 2007 I had not ridden a bike since I was a child, nor had I swam in years. Yet, I took up the challenge and bought my first road bike and set to training 5-6 days a week. I remember arriving race day being so nervous, wondering if I was setting up my transition station correctly, then having to wait so long for my age group to go. It was one of the hardest things I have ever done but also one of the most rewarding. I crossed the finish line all smiles.
These days I am all about cycling but I have that first triathlon to thank because if it hadn't been for me doing that race I would have never found the sport that I love so much. So whether you want to register for the next race as a personal challenge, to meet new people, or to get healthy, know that you will forever be changed. Cheers!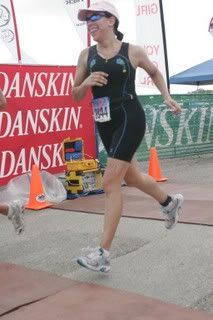 Rebecca crossing the finish line in Austin, June 8, 2008
*Look for a race to train for now on our events page*